Hunts are the Isle of Wight's longest running Fruit and Vegetable Wholesalers. Established in 1964 by Derek Hunt, we are a family owned and operated business delivering fresh produce 6 days a week to Hotels, Public Houses, Restaurants, Caterers and local Shops Island wide.
WHERE IT ALL STARTED
At the tender age of twelve Derek attended Agricultural College in Freshwater and at 15 he began labouring on a farm growing cabbages amongst other farm duties. At 19 Derek started working for David King in Merstone selling fruit and vegetables and whilst there he gained a great deal of experience and product knowledge, becoming a familiar face to local growers. This provided Derek with the perfect foundation to set up his own fruit and vegetable business.
Being a man of great ambition, Derek set up his own business and began trading as D.J. Hunt in 1964 making deliveries in his Austin van. In the 60's and 70's the customer trade mainly consisted of Greengrocers and local shops of which there were many. During the 70's and 80's Derek and his wife Gail began growing their own produce and began trading in Newport Market. Before long they had opened a chain of bustling fruit and vegetable shops in Shanklin, Lake and Godshill.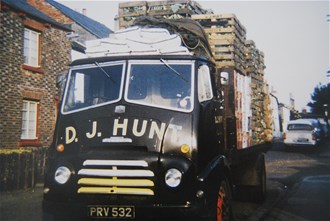 Derek has had to contend with some major changes in the fruit and vegetable trade over the years. Without a doubt, the biggest took place in the late 80's when the arrival of the supermarkets changed the face of the high street closing many local shops. Never one to shy away from a challenge, Derek widened out his customer base and soon he was delivering to pubs, restaurants and hotels as well as shops. From humble beginnings, through hard work and determination the business has continued to flourish to this day.

TODAY
Derek is still actively involved with the business and over the years has been joined by his sons Leigh and Wayne and son-in-law Ian. Whilst Derek and his youngest son William deal with logistics and transportation, Leigh, Wayne and Ian each have their own fruit and vegetable wholesale businesses trading as L.J. Hunt, W.D. Hunt and D.J. Hunt respectively.
Collectively Derek, Leigh, Wayne and Ian have already amassed over 115 years of experience on the Isle of Wight, purchasing, selling and distributing fresh fruit and vegetables to Pubs, Hotels, Restaurants and shops all over the Island. Through the decades, the business has gone from strength to strength and we can proudly say that we are the Islands longest running Fruit and Vegetable Wholesaler. In fact, 2014 marks 50 years of business and we are very proud to be able to offer our customers the extensive product knowledge and expertise that this brings.
We pride ourselves on being the very best at what we do and our aim today remains the same as it was 50 years ago – to provide the very best produce at the very best prices whilst providing an honest, professional and friendly service.